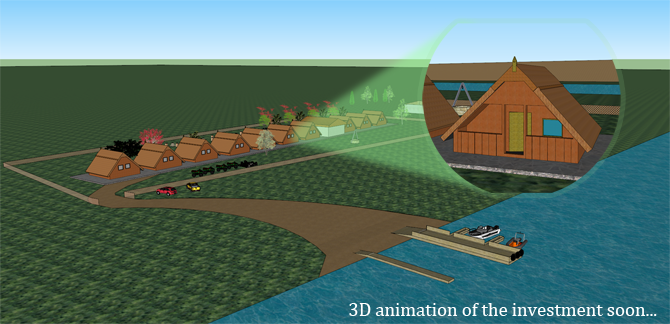 1.1 Our proposal
     SC ECOTURISM DELTA DUNARII SRL gives you the possibility to transform an investment that is in a conservation status in a very successful business, in one of the most preserved locations from the Danube Delta, an interest zone for tourists from all around the world. If you have the financial resources for this investment with a high potential of obtaining profit, OR if you have knowledge of someone with this kind of resources, please consult our offer and our strategy on how to obtain great profits.
     The price for the sale of the whole business is 3.500.000 euro.
1.2 The Offer
     S.C. ECOTURISM DELTA DUNARII S.R.L. based in Bucharest, with evaluated investments of 7,360,000 EUR, presents you the selling offer of the company's shares.
The investment location:
     South-Eastern Europe, country: Romania (a country member of the European Union and the North Atlantic Treaty Organization), area: Danube Delta.
     Our company owns an investment in a state of conservation, on an area of 736 hectares of land, in the Danube Delta, with the following assets:
               – fish farm
               – building complex
               – holiday cabin complex
     We invite you to:
     Contact us if you are interested and you have financial resources for this project. Search for possible investors who wish to acquire our company and obtain profit after implementing our strategy. (We offer an intermediary commission of 10% of the selling price and we have an intermediary contract, both in Romanian and English, for this collaboration.)
     If you are interested in a collaboration with our company please e-mail us at: contact@ecoturism-delta-dunarii.ro.
1.3 Potential Investors
     a) An investment company or an individual, interested in obtaining high profits
     – after buying our company you can implement an investment profitability plan, preferably in partnership with companies specialized in aquaculture and tourism, and with minimum additional investments to gain excellent profits.
     b) Individuals or companies interested in owning an exclusive residential area
     – the investment can provide a secluded place, with restricted access, in an exclusive area with unique landscape, in the middle of the wild nature.
To the investors interested in buying an investment with high profitability potential, we recommend a plan that allows the simultaneous development, on the same 736 ha (1,819 acres) surface, of three large, very profitable activities: Tourism, Aquaculture, Agriculture.